11.Da Nang XichLo Experience & Shopping Spree
aodai
Da Nang Cycle Experience & Shopping Spree
*Highlights:
Thrilling experience on the XichLo(Three Wheels Cycle) to explore the oldest roads of Da Nang city.
Da Nang Cycle Experience & Shopping Spree is the most interesting for any guests(Children,Senior,Couples…)
Great insider to the famous landmarks of the city like Chicken Church,Dragon Bridge,Han River Bridge,Han Market.
Tailor for any kinds of shopping(souvenirs,clothes,dried seafood,cakes,handicraft,etc) with our Aodai sister's help.
Immerse yourself to taste best Pho in Da Nang and interact with the residents.
*What to expect:
Hop on the cycle(3 wheels bicycle) to slowly explore the beautiful sights on Bach Dang street, the oldest roads of Da Nang city,along Han River with ultimate river views for your greatest experience ever.Stop for a while at Han River bank for your beautiful photos to save your memory.Keep up riding you cross Han Market in the crowd of local and hanging you on Yen Bai street built by French to visit Da Nang Cathedral Church.
Walking to Han Market for tailoring your shopping  spree with our Aodai sisters's help in bargain as well as our Aodai sister will help you look for a right ones that you would like to buy in the easiest ways from various local products from dried seafood,local cakes,handicraft,clothes,etc for your back home.
After spending few hours at Han Market,our Aodai sister will take you to taste the best Pho(cooked by the North people) to recharge your energy prior calling the taxi for your back your hotel.Da Nang Cycle Experience & Shopping Spree is worth every penny if you're looking for a thrilling tours in Vietnam.
*Itinerary:
Duration:4-5 Hours.
Morning Tour:10.am.
Afternoon Tour:2.pm.
Private car pick up at 10.am for morning tour.
Private car pick up at 2.pm for afternoon tour.
Tour start after meeting up in 10 minutes at the hotel.
Walking to the middle of Dragon Bridge for your great photos.
Hope on the cycle(3 wheel bicycle) to hang on Bach Dang street,nicest street of Da Nang city.
Riding the cycle  cross Han Market and Yen Bai street built by French.
Visit Da Nang Cathedral Church(Chicken Church).
Spend few hours at Han Market for shopping spree.
Taste the best Pho in Da Nang(cooked by the North).
After 4-5 hours,drop off at the hotel.
*Tour Inclusive:
Pick up and drop off by private car within 5-6 km from city center.
Local Food(Best Pho)
Professional English Aodai guide.
All entrance tickets.
Experience on Cycle(3 wheel bicycle) for 30 minutes.
Local gift.
Tour insurance provided by tour operator(up to 50 millions vnd for medical treatment).
*Tour Exclusive:
Other personal expenses.
Tips or gratitude(Minimum 5 usd for guide).
*Tour Price:
37 USD/Guest(Adult/Youth).
31 USD/Guest(For the group of 4-8 guests).
16 USD/Children-Seating with adult.
Free of charge for the infant( under 3 years).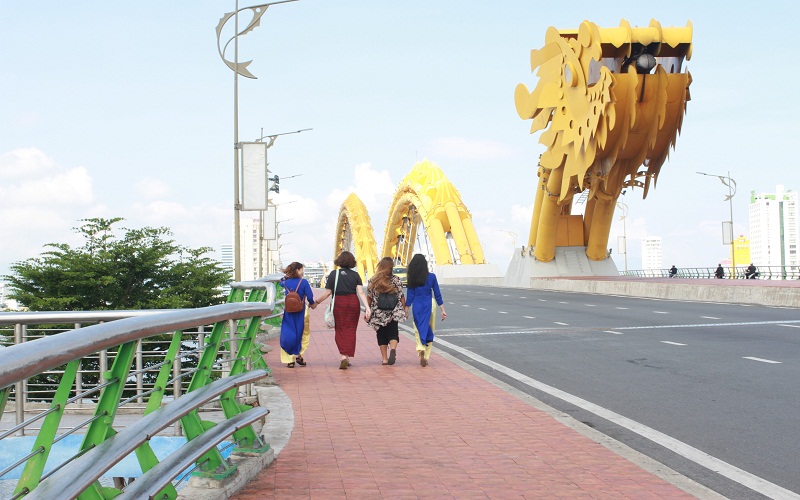 *Tour Note:
Da Nang Cycle Experience & Shopping Spree is private tour,so tour can run with minimum 2 guests.
If one guests book the tour,we extra-charge with 50%.
Children under 1.40 m,considered as a child,seating with adult on the 3 wheel bicycle
Children upper 1.40 m,considered as a youth,seating independently on bicycle.
In case,you prefer your child seating with adult,kindly let us know when you book the tour with us.
Only recommended guests to bring Camera and money enough for personal expense.
Free pick up and drop off by private car for hotel away the center(Cham Museum) 5-6kms.
Surcharge 15 USD/transfer for pick up and drop off at hotels:Golden Bay Danang Hotel,Da Nang Hyatt Regency, Vinpearl Da Nang, Melia Da Nang, Sentara Da Nang, Vinpeal Ocean Da Nang, Sheraton Grand Da Nang, Pulchra Da Nang, or Ocean Villa Da Nang.
Guests can meet up us at Han River Dragon Cruise( in front of Cham Museum)-Street 2-9,Hai Chau District.